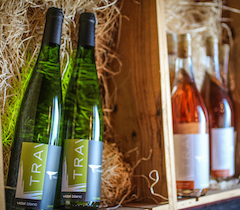 Travessia is a micro-winery in downtown New Bedford, Massachusetts. We focus on making wine in small lots with primarily Massachusetts-grown grapes, such as Chardonnay, Pinot Grigio, Vidal Blanc, and Pinot Noir. Travessia wines are an authentic reflection of our local soils and micro-climate. We love to experiment and push the boundaries but our wines are also made with simplicity.

You can purchase Travessia wines directly from the winery through our very simple order form or by calling us directly at the winery. Join our mailing list to receive our quarterly newsletter which includes updates on everything Travessia.

We invite you to visit us and taste our wines. Travessia's tasting and sales room is inside the winery in the heart of downtown New Bedford, Massachusetts. Currently, we are open Saturday and Sunday from Noon to 5P.M. | Directions

In The News:
French Oak TV Interview
Filmed & Produced by French Oak TV - January, 2012



Event Notice:
Travessia Wine Club Pick-up
New Bedford, MA
Saturday & Sunday, April 2nd & 3rd, 2016, Noon to 5PM. | More Events

Quarterly Newsletter:
"December 2015" - Read the latest edition of our newsletter.






















Mensagem em Português

A Special Thank You