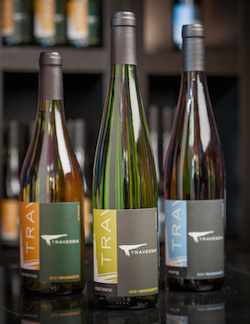 The Travessia Wine Club currently has about 400 members! Do you need a reason to join too?

It's free to Join!
No charge or fee for joining the Travessia Wine Club.

One Case of Wine (12 bottles) per Year
You will purchase three bottles four times per year. Pick-up at the winery or we can ship to you (currently, shipping is available only to Massachusetts).

You buy the wines YOU want
We don't "force" wines upon you... YOU choose the wines YOU want to purchase!

10% Discount
An immediate 10% discount on all Travessia wines and merchandise independently of number of bottles purchased.

Free Shipping
Free FedEx Ground Shipping on orders of 3 or more bottles - A $12 to $18 value!

Complimentary Tasting
Every time you visit Travessia, receive complimentary tasting for you and a guest.

Members Only Events
Invitation to attend exclusive events throughout the year.
First access to limited production wine offerings.

Wine geekdom
Free or discounted admission to educational events.

Other benefits such as special gifts, winemaker's newsletter, etc.

If you have any questions about our wine club, please don't hesitate to contact us.